Traditional Home Magazine
Hello from our team at The Arbors! We are already working on the Fall Show but wanted to share some exciting news!
If you remember, in the Fall of 2016, Julie Dodson led a team of Designers in the first ever Designer Dream Spree in Round Top, Texas! (Read more about the 1st Annual Designer Dream Spree here) Julie and her team worked hard to put the event together with big names in the design world! Her hard work paid off with a 4-page article in the Texas Issue of Traditional Home Magazine's May 2017 issue.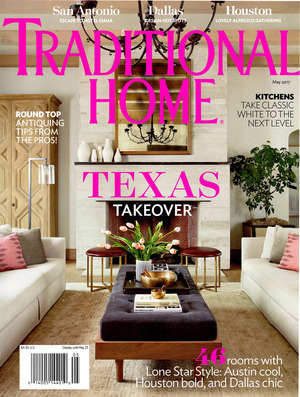 We hope you will go out and grab the May 2017 Issue as there are also two residential design projects featuring interior designers Julie Dodson and Michelle Nussbaumer. Julie's features the Stein residence in Houston, and Michelle's is a Dallas project, both excellent features.
Read the article: Click here to see the 4 page article about Round Top!
The 2nd Annual Designer Dream Spree is slated for September 26-29, 2017 at the Round Top Fall Antiques Show. Sensational Emmy-Award winning TV celebrity, style expert and New York Times best-selling author, Carson Kressley will join interior designers Kathryn M. Ireland, Beth Webb and Aaron Rambo as panelists for a Panel Discussion on "Exceptional Discoveries". The Panel Discussion will take place at 3:00pm on Wednesday, September 27, 2017 at The Compound, 2550 South State Highway 237, Round Top, Texas. It is open to the public for a nominal charge of $30 with all proceeds benefiting local animal shelters.
We are excited to be working with Julie Dodson on a special event to be held at The Arbors! Stay tuned for more details and ticket availability coming soon!
We are excited about the Fall Show at The Arbors and hope you will be joining us September 20-30, 2017! If you have questions about the show events or are interested in having dealer space at the show send us an email at [email protected].
See you soon,
Curtis Ann Davis and the Arbor Team